I've noticed there's been a huge hype around the Michael Kors Rose Gold Watches lately. Now as lovely as they are, I just could not bring myself to pay between £250-300 for one, unless of course I was to win the lottery?
While I was out shopping yesterday, I found this absolutely gorgeous watch, which in all honesty I actually prefer to the Michael Kors watches. Its by
Fossil
, its stainless steel rose gold plated, with Diamanté edging and working date dials with a opalescent finish. This one retails for £125. I literally stood in H Samuels for around half an hour debating whether to buy this, I could afford it but thought there's so many other things I need the money for haha! My Mom said she would buy it me as my 21st birthday present, but that's not until January :(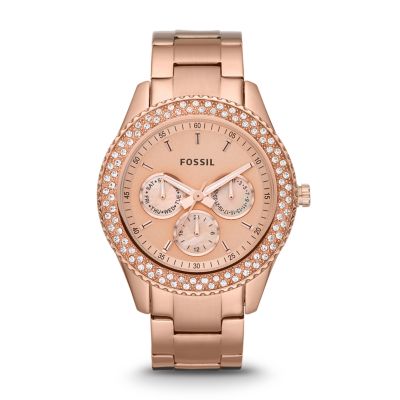 (Images linked back to source if you'd like to have a nosey for yourself.)
I did have a browse on the internet to look for a similar one, and I found one for around £20 on Amazon which I really liked, and included on my last weekends wishlist. I am tempted to buy this one as its so cheap and will do just aswell, it looks pretty similar anyway, other than the dials aren't working and they aren't pearly. It was this watch by Geneva:
(Image linked to source)
What do you think of the rose gold watches trend? Have you found one that you've fallen in love with?